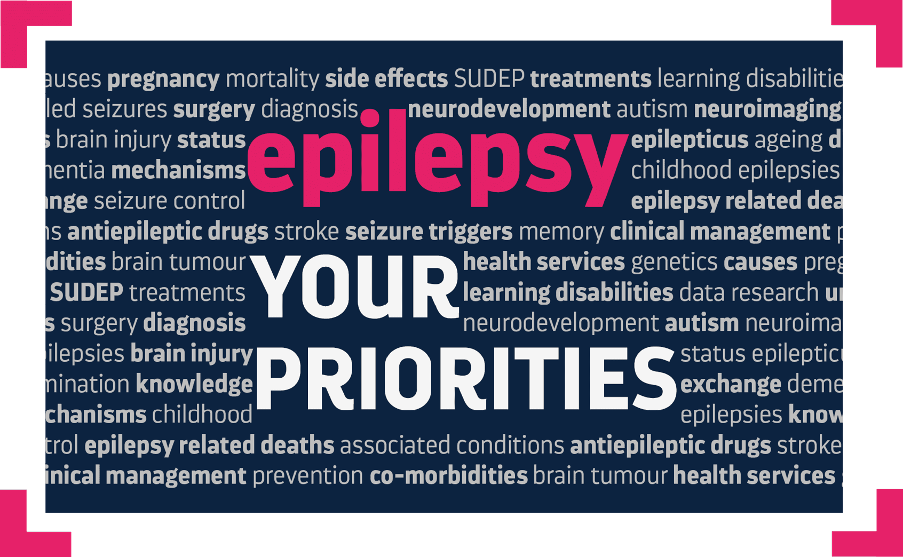 a national survey collating the views of the entire UK epilepsy community
WHAT IS THE UK EPILEPSY PSP?
This national survey, led by Epilepsy Research UK, will collate the views of the entire epilepsy community – healthcare professionals, epilepsy patient groups, people affected by epilepsy, their families, friends, and carers, those bereaved by epilepsy. The information gathered will help identify and prioritise areas of healthcare that can be improved by research and result in higher quality studies and increased investment.
Epilepsy Research UK has committed the funds and resources to undertake the programme with a steering group committee comprising the ILAE British Branch, clinicians from across the United Kingdom, key epilepsy charities and people with a personal connection to epilepsy. All relevant clinical membership organisations and major patient groups covering associated conditions and rare epilepsies will be contacted, to reach as many people as possible, from every walk of life, and every corner of the country to ensure we receive representative responses from the entire epilepsy community.
WHY IS THIS THE MOST IMPORTANT SURVEY YOU WILL EVER COMPLETE?
It is time for change. Inequalities in research funding have meant progress for epilepsy has been slow. If we want to drive more investment, we must do as other health conditions have done, and provide clearly evidenced priorities to effect change. Your priorities will enable us to:
Carry out clinical research that matters most to people affected by epilepsy
Fund research based on evidenced priorities
Drive collaborations with associated condition charities
Generate the evidence needed to influence government and institutional funders to give us our fair share
If we don't act now, innovations in the diagnosis and treatment of epilepsy will continue to lag behind other conditions.
The scope of the UK Epilepsy PSP is as follows:
Causes: to include prevention and co-morbidities
Diagnosis: to include access to health services
Treatments: to include anti-epileptic drugs, surgery, treatment side effects, co-morbidities (including those as a consequence of treatment), and epilepsy that does not respond to treatment
Clinical management of epilepsy: to include risk of epilepsy-related deaths (including Sudden Unexpected Death in Epilepsy – SUDEP), service access, neurodevelopment, co-morbidities, social and psychological factors, and emerging areas such as epilepsy in older people
Dissemination of research breakthroughs to influence epilepsy care, practice and policy: to include medical education and pathways to improved care
Epilepsy affects everyone differently – we want to know what YOU consider to be the top priorities for research into epilepsy. Please join us. Let's drive change.
The survey should take no longer than 5 mins to complete.